It's that time of year comming up!

Thank you to all who came out and help fight hunger and then got to enjoy a beautiful day of great music and social interaction last year. We hope you return for year #8 this will be a blast. General Tickets will go on sale Dec. 1st so watch this web site for the latest news.

---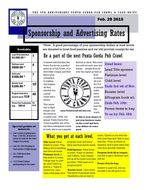 We have started our funding for the next pub crawl so if you own a business please download this rate sheet and consider putting your business name on this event we are one of Punta Gorda's most popular events and there is great exposure for you with us.
< ---------------------------------------------Click here to look at and download

---
A good place to check to see what's happening in town!


Want to know what's going on in town? Keep informed and make a big weekend anytime you're in Punta Gorgeous. Check in with our friends at: www.everythingpuntagorda.com Click the logo to stay informed about our town!

---